Things that are forced, grow for a while
but then wither away -Lao Tzu

1/9/2014
Playing for the first gate
---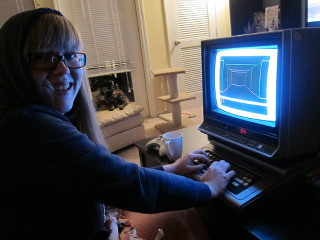 A recent addition to my computer collection is a Tandy Color Computer. It also came with a copy of the notable Dungeons of Daggorath. This game featured prominently in a book that Samantha and I both love. So I toted it all over to her place so we could play it for Date-Night.
Dungeons of Daggorath, released in 1982, is an RPG that features a first person view and real-time fighting system. The player is charged with the dispatching of an evil wizard while navigating a maze and fighting other enemies. Input is given with typed commands like "Turn Left", "Pull Right Sword", and "Attack Right." These can be abbreviated as "P R SW" or "A R" (learning this instantly doubled my survival time.)
As mentioned above, this game and system were featured in the book Ready Player One by Ernest Cline. In the story, the main character must win this game to open the first of three gates, marking a players progress through a bigger contest. winning the game is of course no small feat, and With my few short hours of play, I have a new found respect for anyone completing such a challenging game.